Presentation Updates


User Interface Improvements
We have updated and improved the user interface (UI) within Presentations.

We've condensed the playback controls and moved the annotation toolbar so it no longer appears over the video window.

The panels are all resizable and can now be hidden.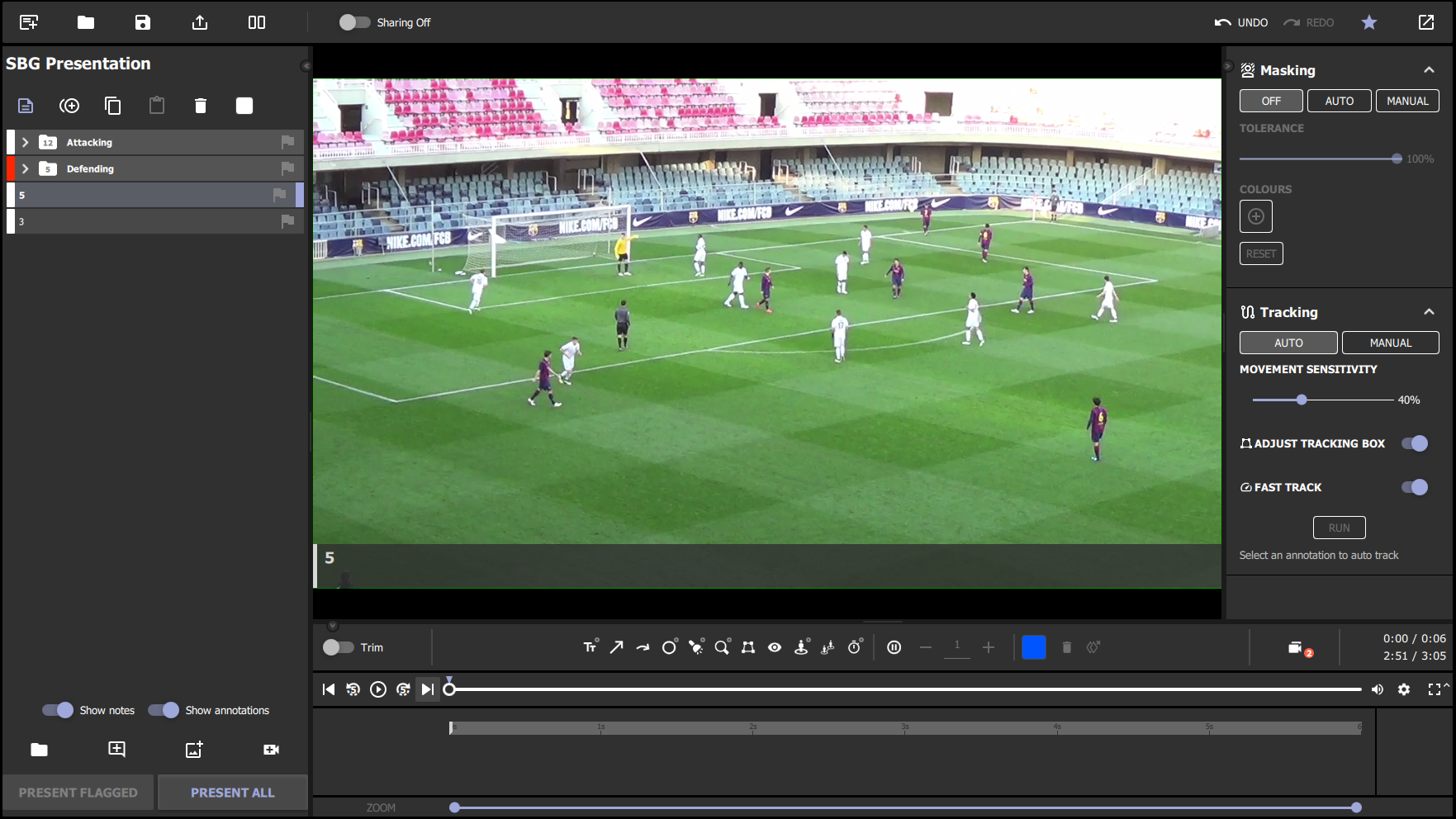 Auto-Tracking
Automatically track players for single-item annotations such as the player icon and spotlight. To ensure good results with auto-tracking users must adjust the tracking box to the player they wish to track.
This functionality does not currently work with video streamed from the Hub. We are working on this for an upcoming Focus release.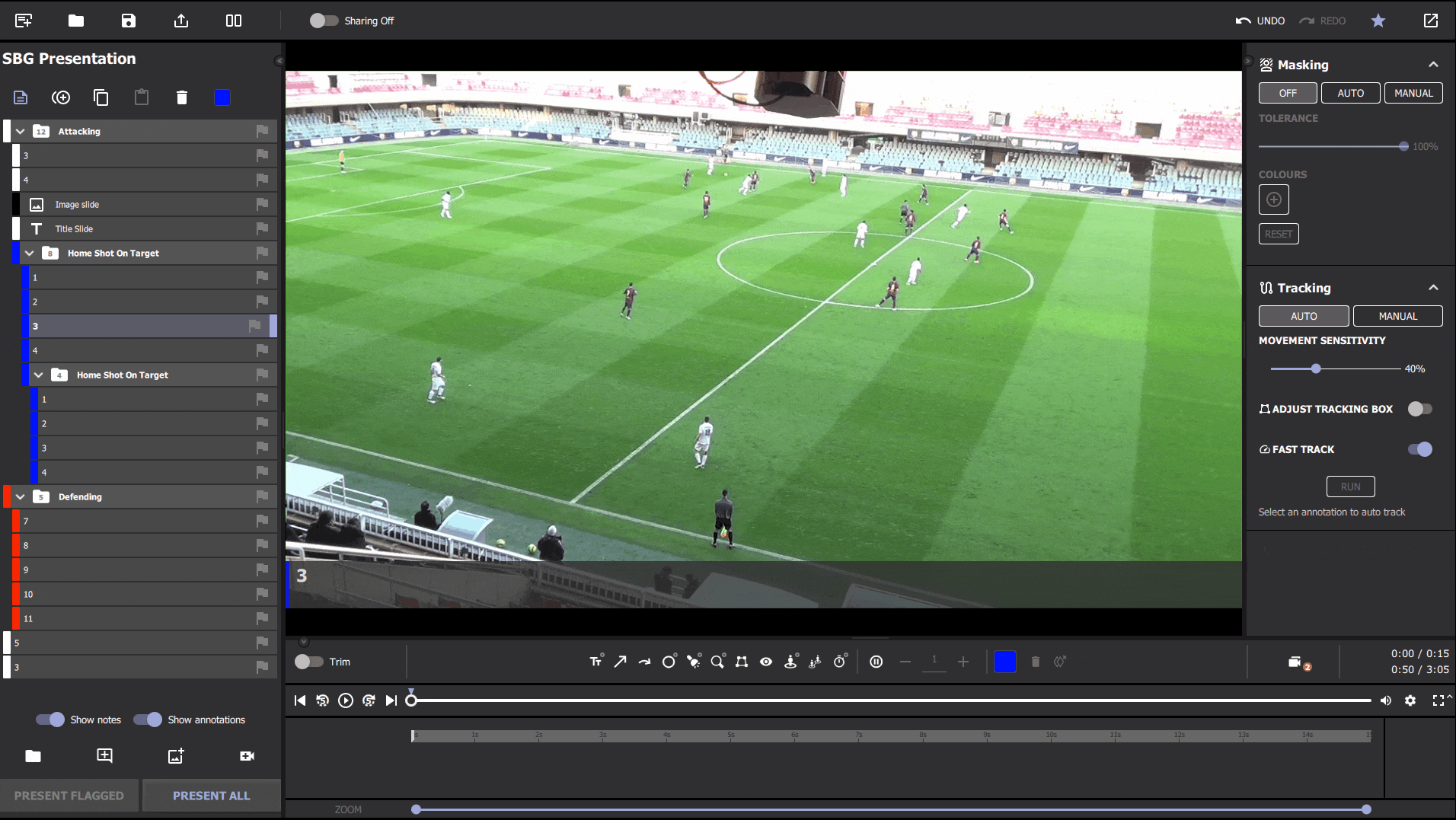 Optimised Manual Player Tracking
We have added a new mode to make it quicker and easier to use manual tracking. This is also for single-item annotations only.

This optimised manual tracking mode can be activated by right-clicking or long pressing the desired annotation or via the properties panel.

The user can then move the annotation over the player they wish to track and click to add the first keyframe.

The clip will then automatically jump forward slightly to allow the user to add another keyframe. This can be repeated as long as required and then the user can press escape, right click or the stop button in the properties panel to end the tracking.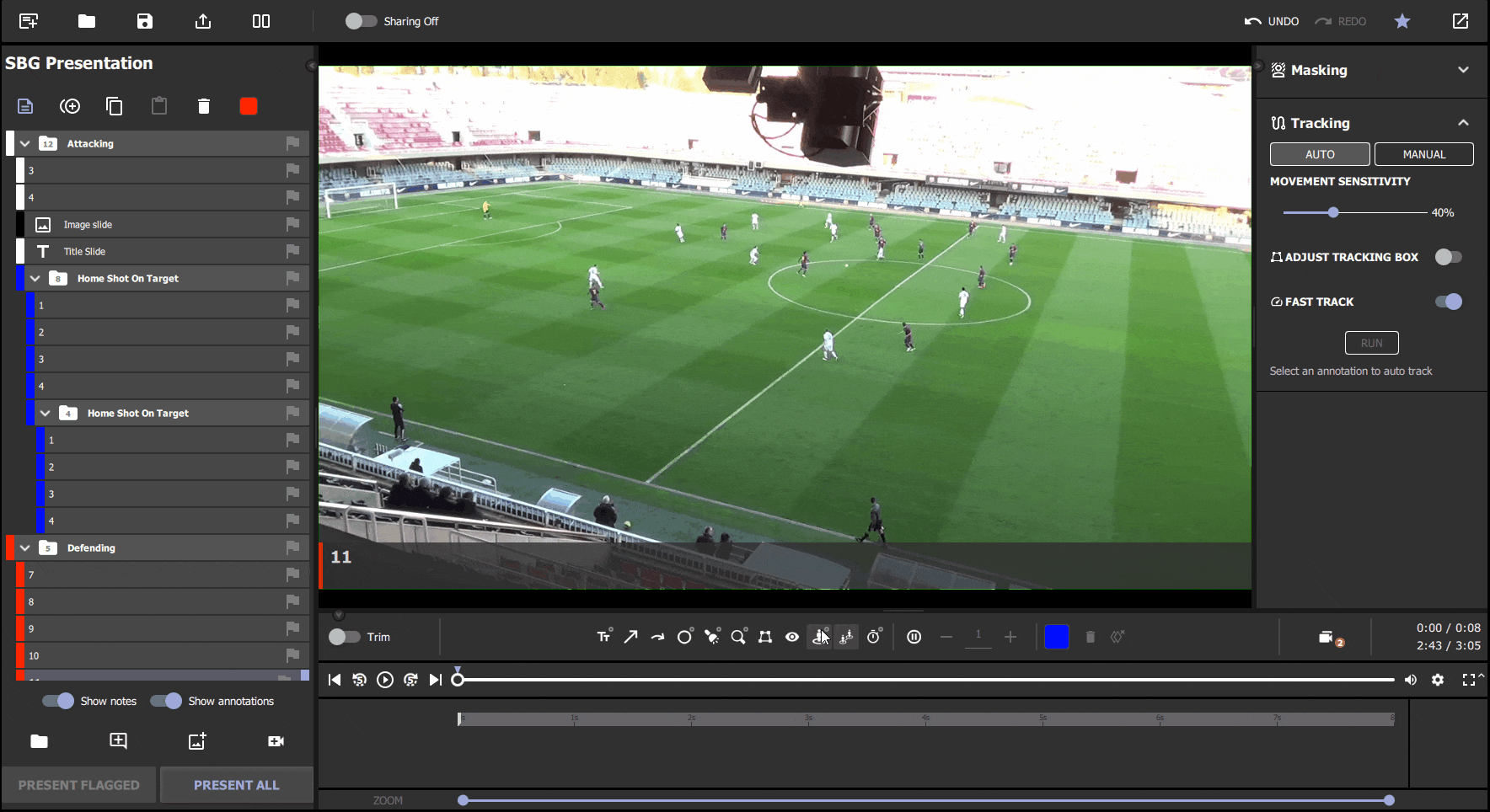 In the toolbar there is a new button to remove all keyframes from the playhead onwards to aid tracking workflows.
New Annotation Customisations
Users can now customise various properties of player icons, straight arrows, curved arrows and text within the customisation section of the new side panel.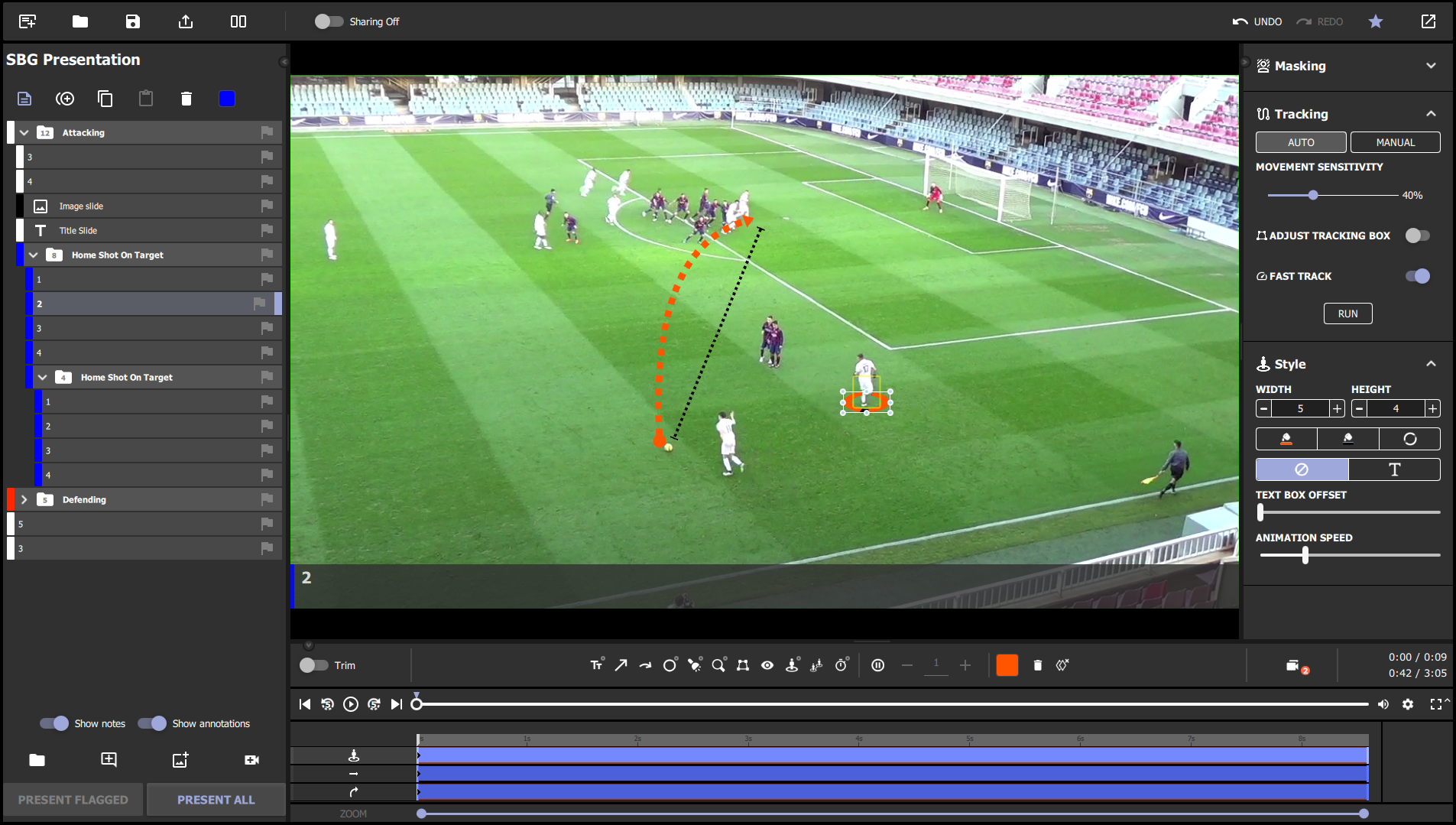 Other Notable Improvements
Audio is now supported in Presentations! Exporting video from Presentations does not currently support audio.
Added ability to re-link Presentation media if it gets lost.
Users will now be warned when saving a Presentation that references media rather than a standalone Presentation package.
Condensed angle selector.
Tag Templates


Tag Template Output Video
Clicking on tag template outputs will now highlight the relevant instances on the timeline.

Users can also set up custom video configuration for the output, as the calculation logic does not need to be linked to the video logic.

This functionality also obeys the new 'All Sessions' outputs functionality added in this release.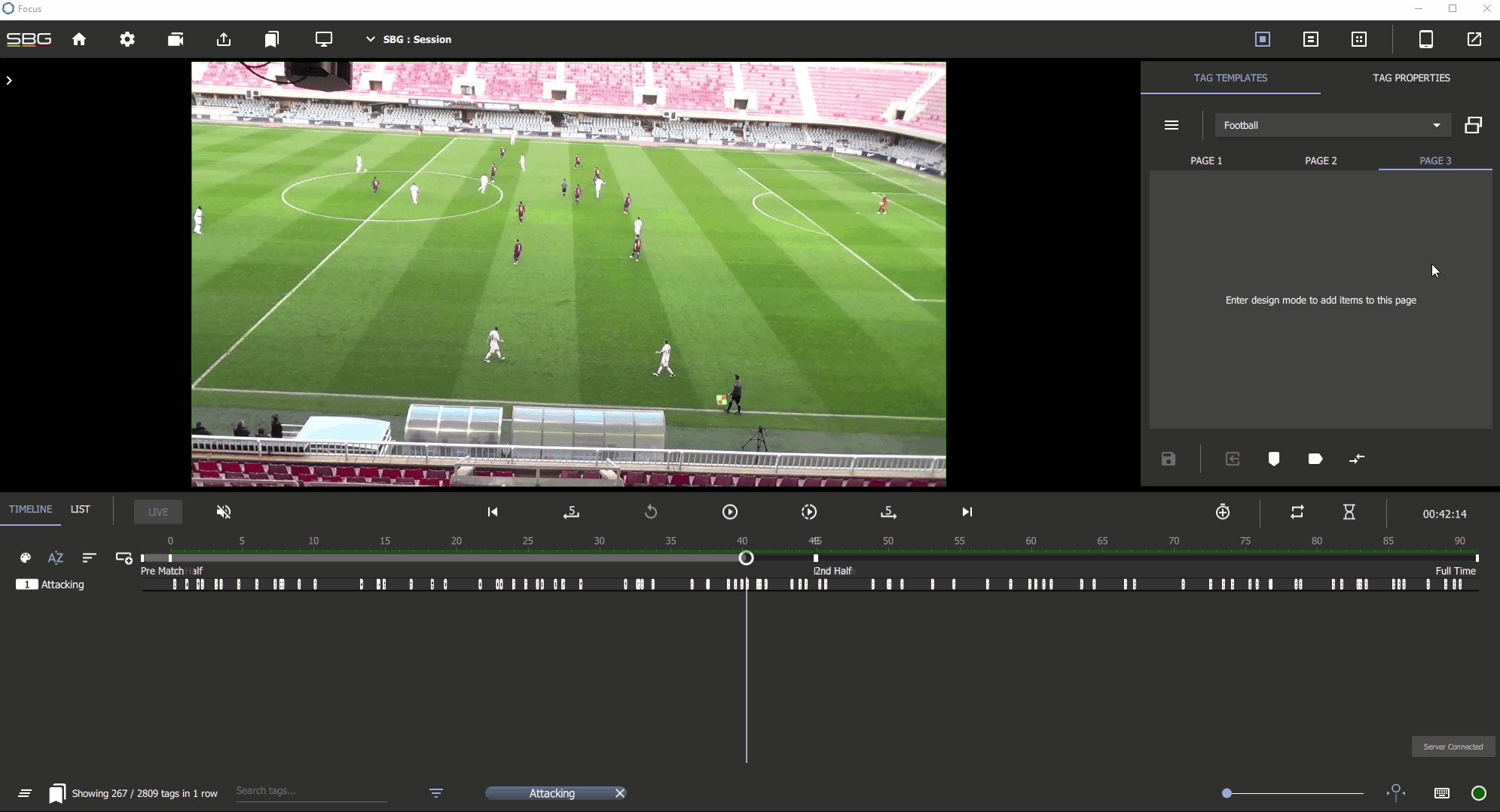 Multi-Session Calculations
We have added an option to calculate Tag Template outputs across all open sessions.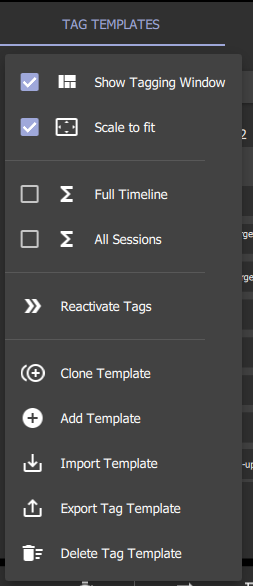 Pause/Resume capture
Users can now pause video capture from the Focus Client. This option pauses the video capture on both the Focus Server and Client (if applicable) allowing users to avoid recording unnecessary footage e.g. for half-time.

Users can also choose not to start recording on session start.
Users must update to Focus Server 6.2 to take advantage of this feature.
Improvements & Bug Fixes
App language setting
Sort label groups columns
Fixed: Undoing something in Presentations could cause a crash
---
October 2022