End of macOS Catalina and Mojave Support
MacOS Catalina and Mojave are no longer supported in Focus. Any users continuing to use these operating systems will not be able to install this or future versions of Focus.
List View Improvements
List View is now fully flexible, giving users the ability to build their presets including any type of column in any order
New Tag information displayed: Start Time and Duration
Added the ability to export a CSV file based on their current List View configuration. This option also obeys the timeline filters
List View in tablet mode now follows the configuration of the session List View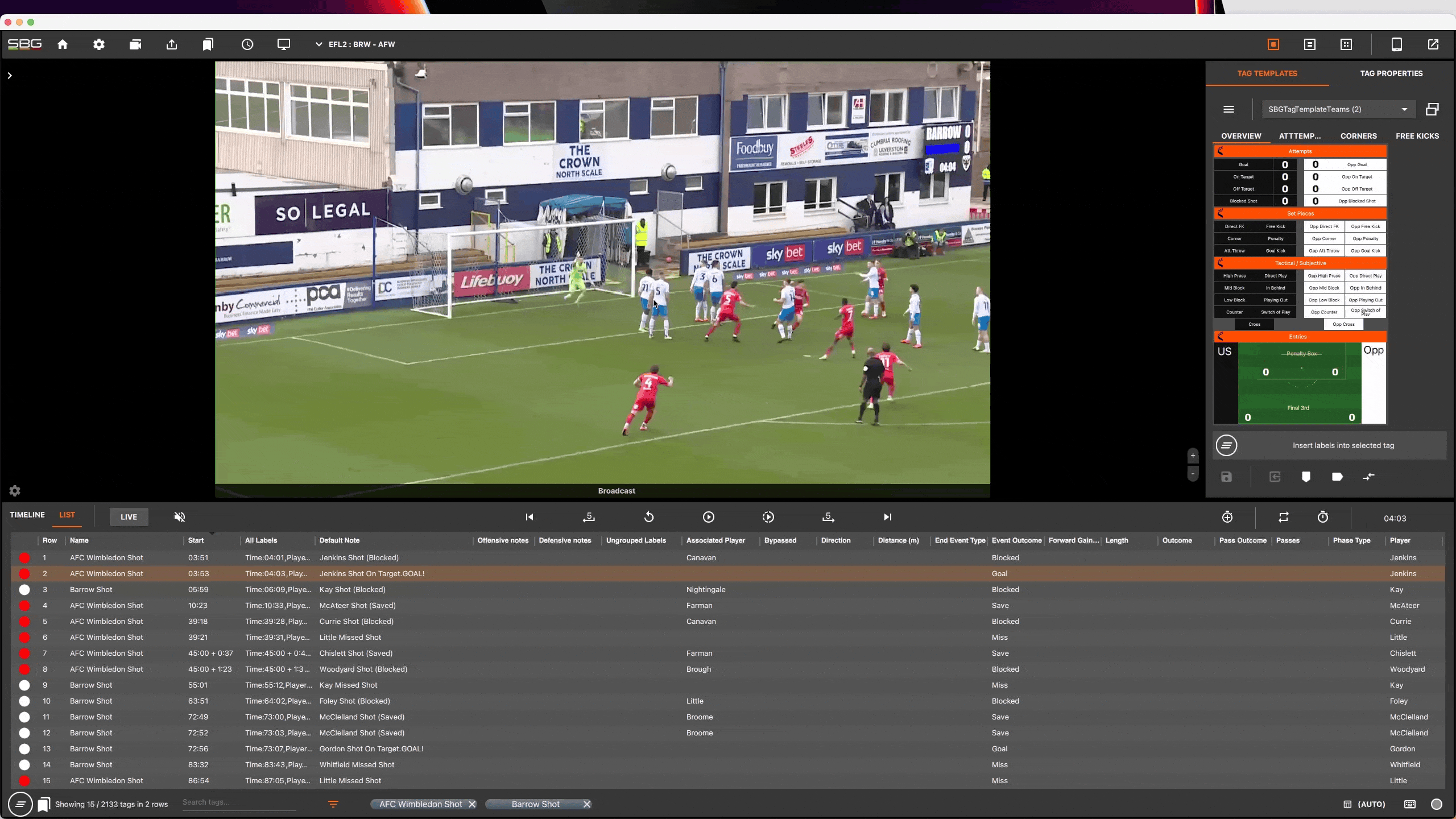 New look for Presentations
View all of your Tag information in one compact view
New Tag information displayed: Start Time and Duration
Edit, remove and add Labels by clicking on the cell in the Tag row
Build custom presets of which columns are displayed in List View. The label groups, notes and Tag info displayed, as well as their placement, will be remembered as a preset
Switch to the Annotations Tab to add annotations to your video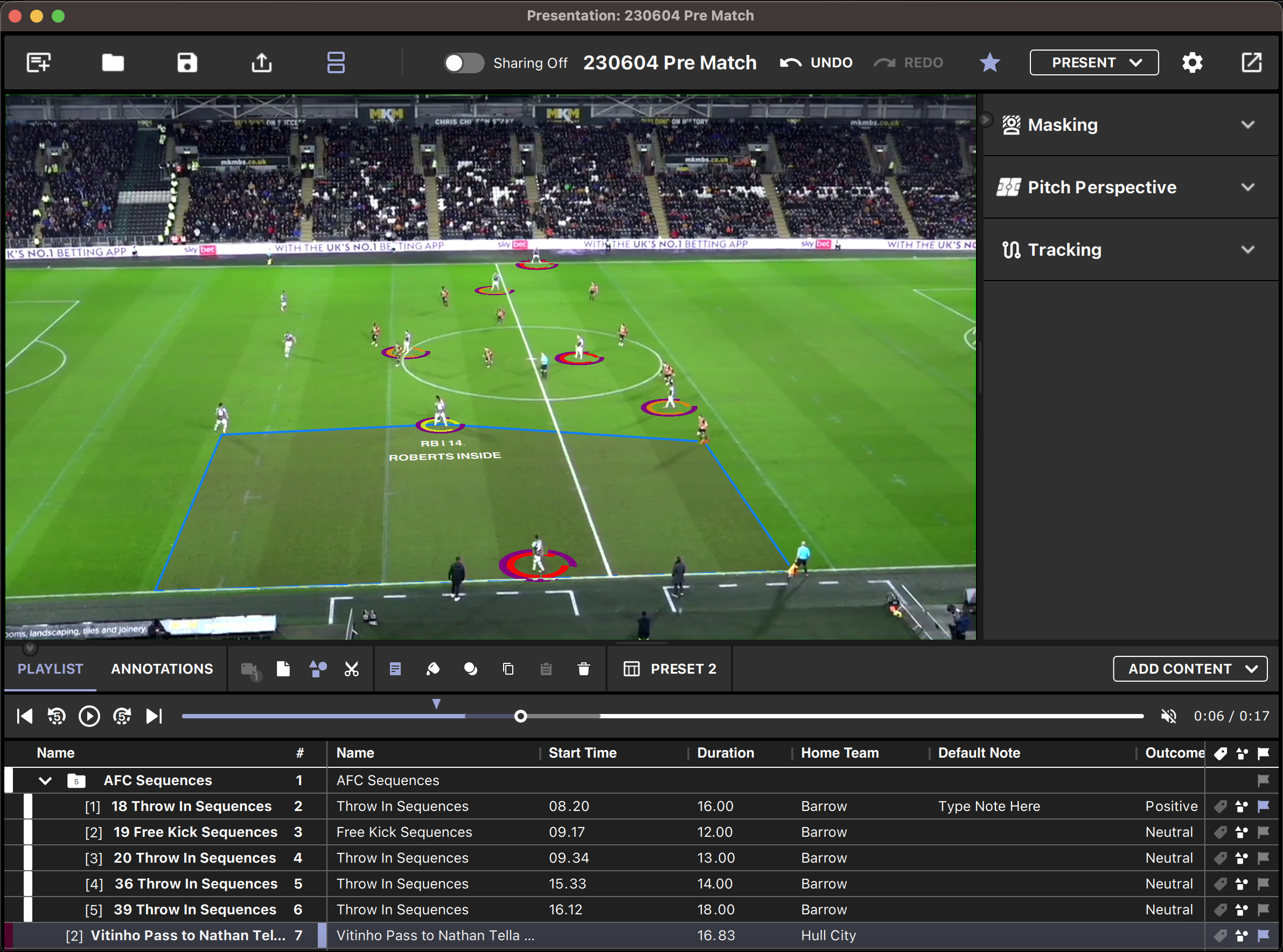 Auto-tracking for player links and polygons
Player Links and Polygons can now be auto tracked. Place the nodes underneath players and hit "Run" in the Tracking panel.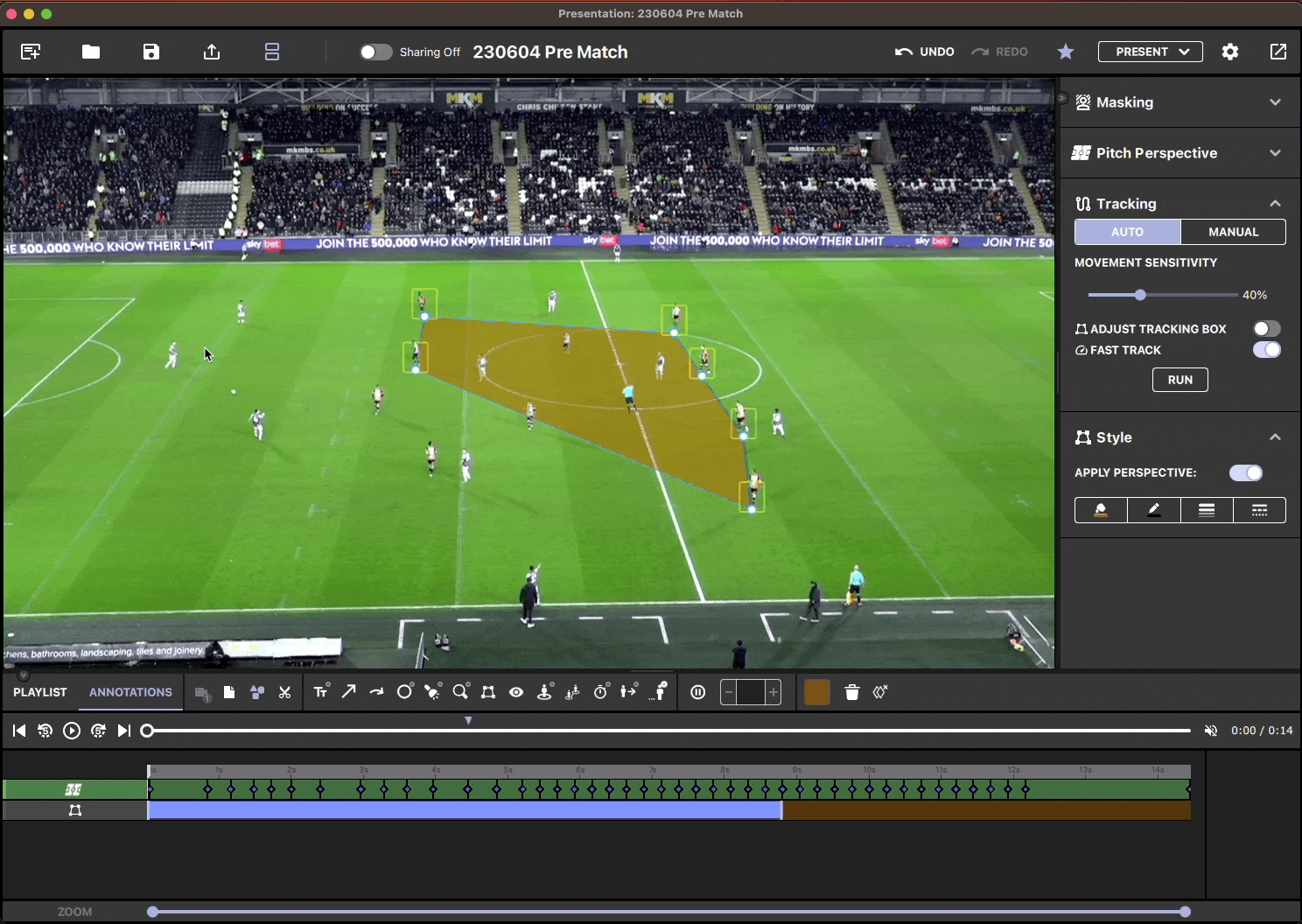 Other improvements
Improved performance while using output calculations
New line thickness option for annotations
Adjusted loop and playback naming
When a presentation is playing and the user hits tab, it will respect the previous state of playback
When adding freeze frames, the keyframes panel zoom will be adjusted
Updated the Help Centre URL located in the main menu
Bug Fixes
Fixed: Running auto tracking on Move/Erase annotation could cause a crash
Fixed: Auto tracking box was not available for supported annotations while using Pitch Perspective
Fixed: Some dialog boxes wouldn't size correctly to content height
Fixed: For videos with shallow viewing angles, annotations would sometimes fail to project
Fixed: When projecting polygons or player links, the dashed/dotted line style would not render correctly
Fixed: Keyframes would not be placed at the end of the chosen time range in auto pitch perspective
Fixed: Clips within a Presentation would sometimes have playback lagging issues
Fixed: Double-clicking on an annotation would enter a fullscreen mode
Fixed: Wired remote rev/slow buttons were not working as expected
Fixed: Improved exception handling that could cause Focus to crash
Fixed: In some scenarios, timeline controls could get stuck at the wrong size
Fixed: Adjusted preferred app colours throughout Focus windows
Fixed: Numerical values were being incorrectly sorted in the List view
---
July 2023