This guide will take you through how to configure the Ruckus R610 Access Point using the Unleashed Firmware (v200.xx.xx.xx).
Connect to Ruckus
Connect your laptop to the Ruckus with an Ethernet cable
Change the IP of your laptop LAN adapter to 192.168.0.xx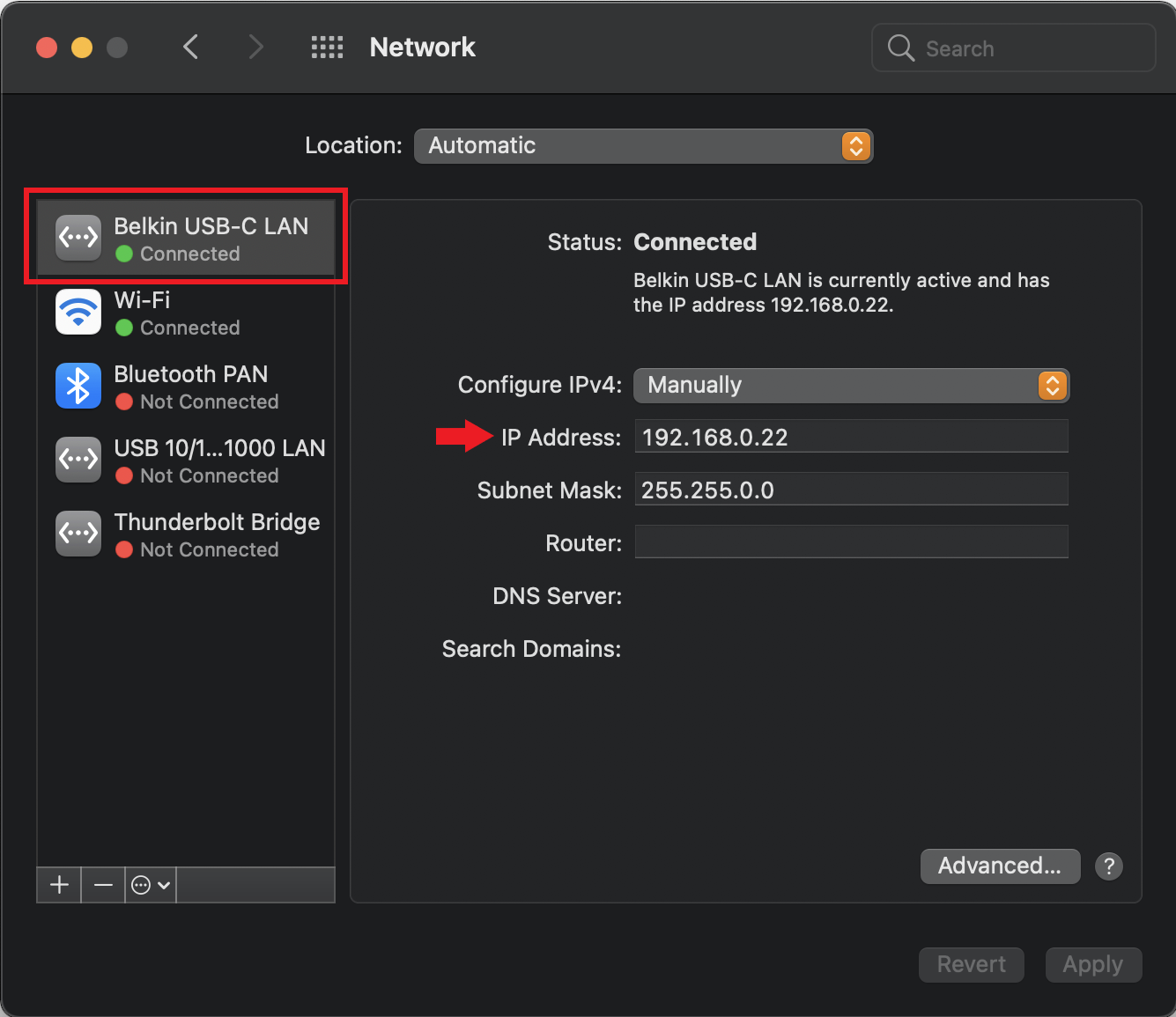 Open a browser and go to https://192.168.0.1 (may need to disable WiFi first)
Will get a warning page about the connection certificate not being trusted

Click Advanced and then the Proceed link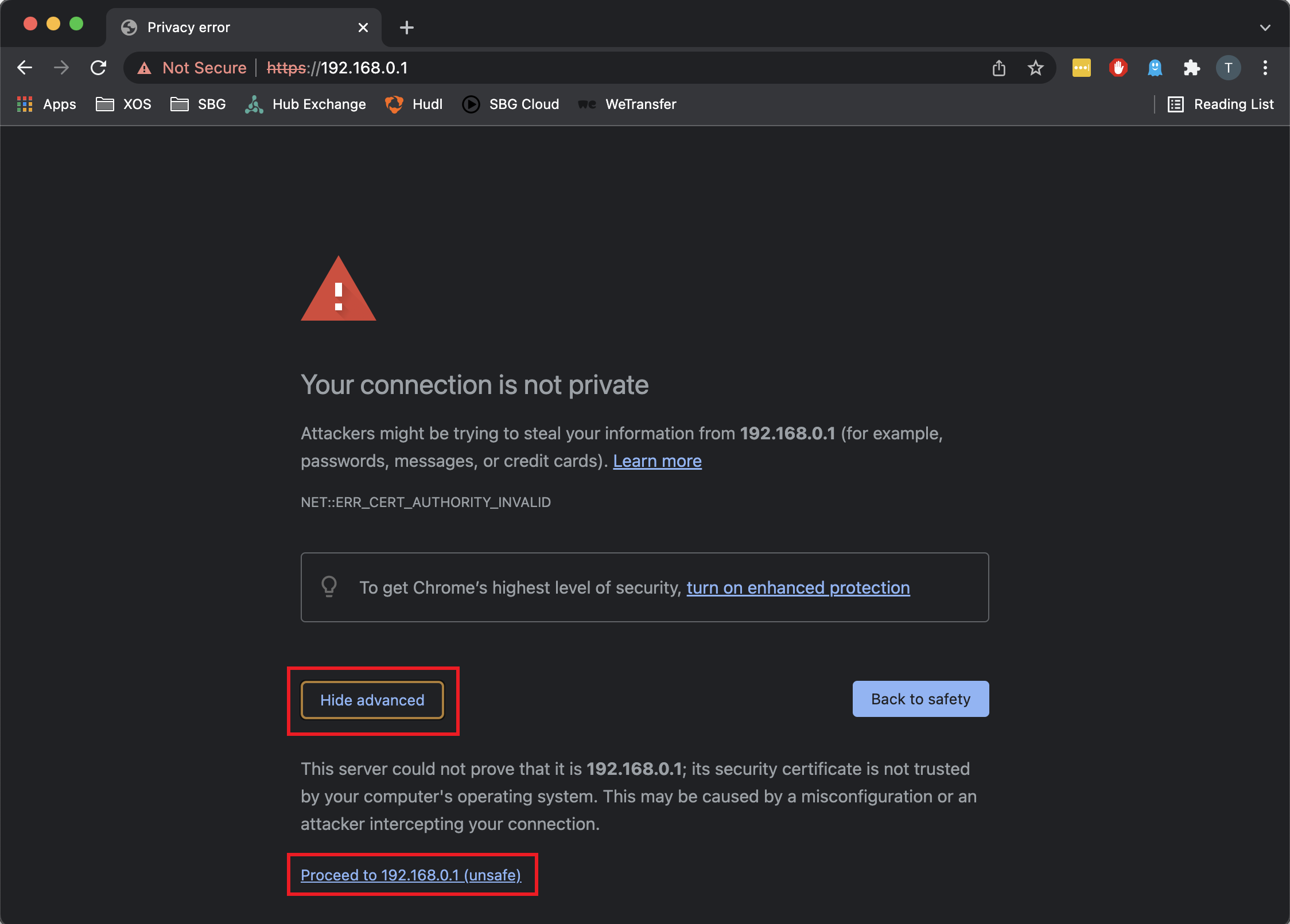 Will now be brought to the Quick Install Setup Wizard
Quick Install Setup
Enter Wireless LAN Info

Name (ESSID) will be the WiFi network name (SSID)
Passphrase will be the password used to connect to that network
Enter Administrator Info

Admin Username and Password will be used to log in to the Ruckus itself (write these down)
Click Finish and then Yes when asked to Restart the Ruckus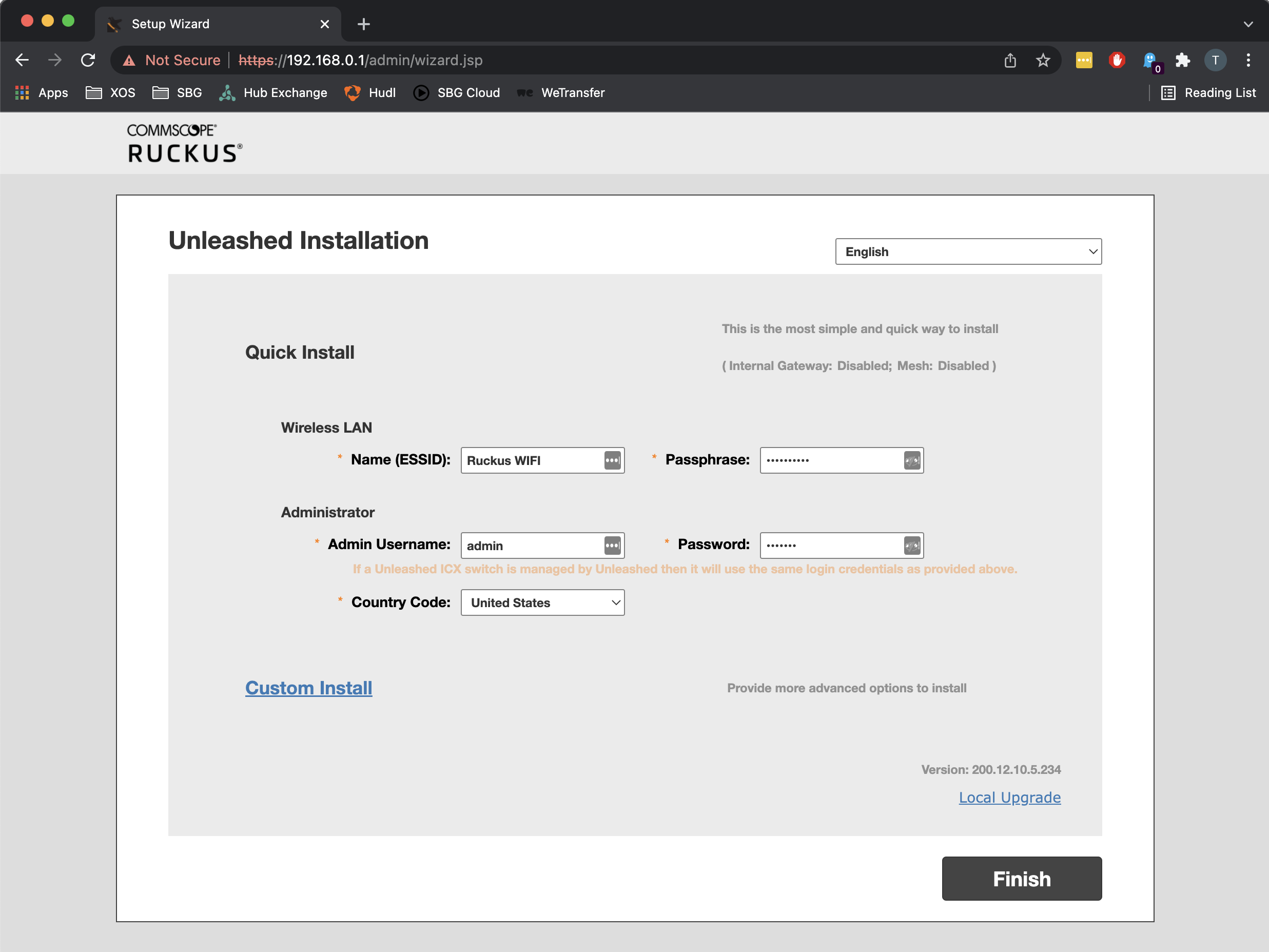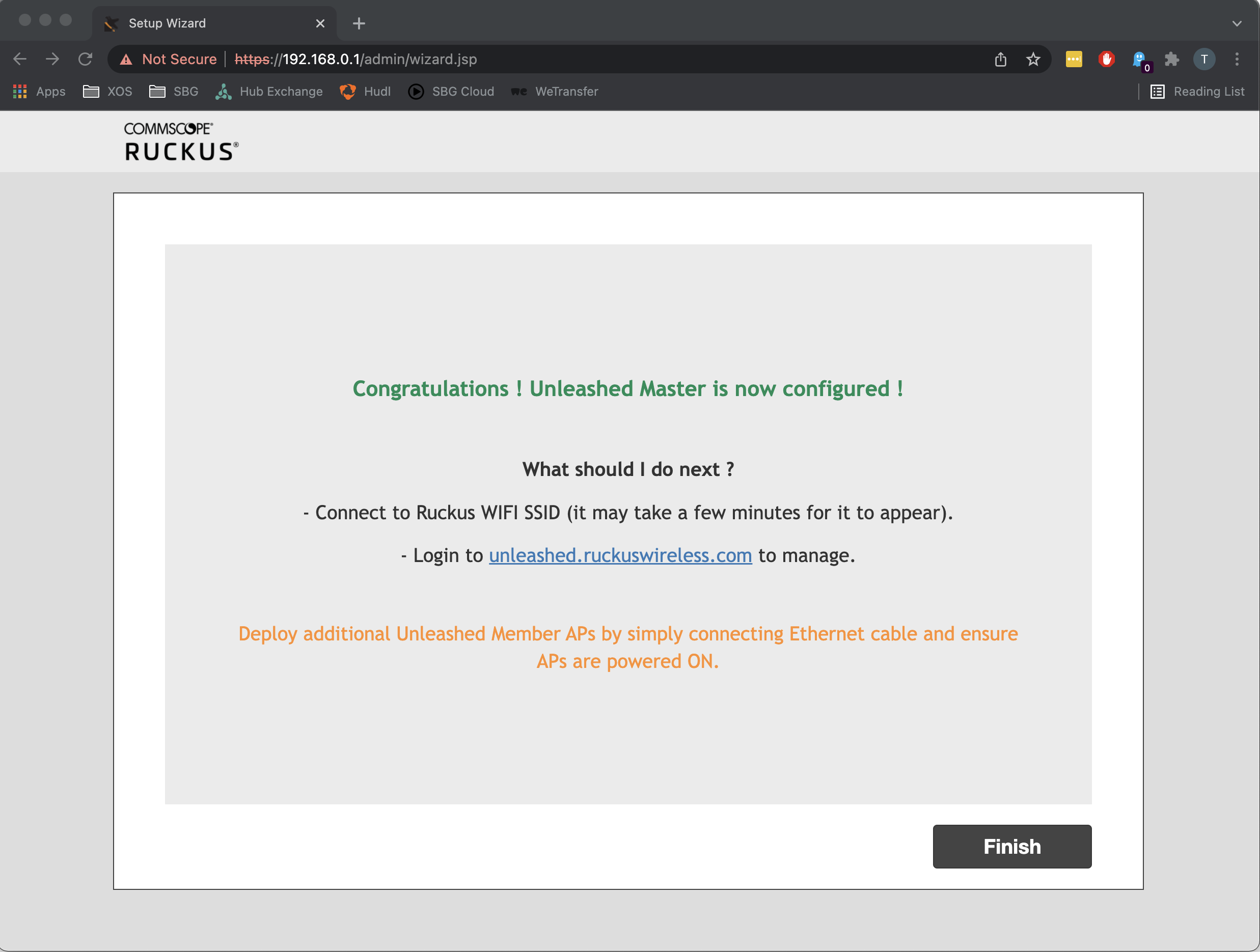 Wireless Network Configuration
Once configured, click Finish and then log in to the Ruckus using the Admin Username and Password you set above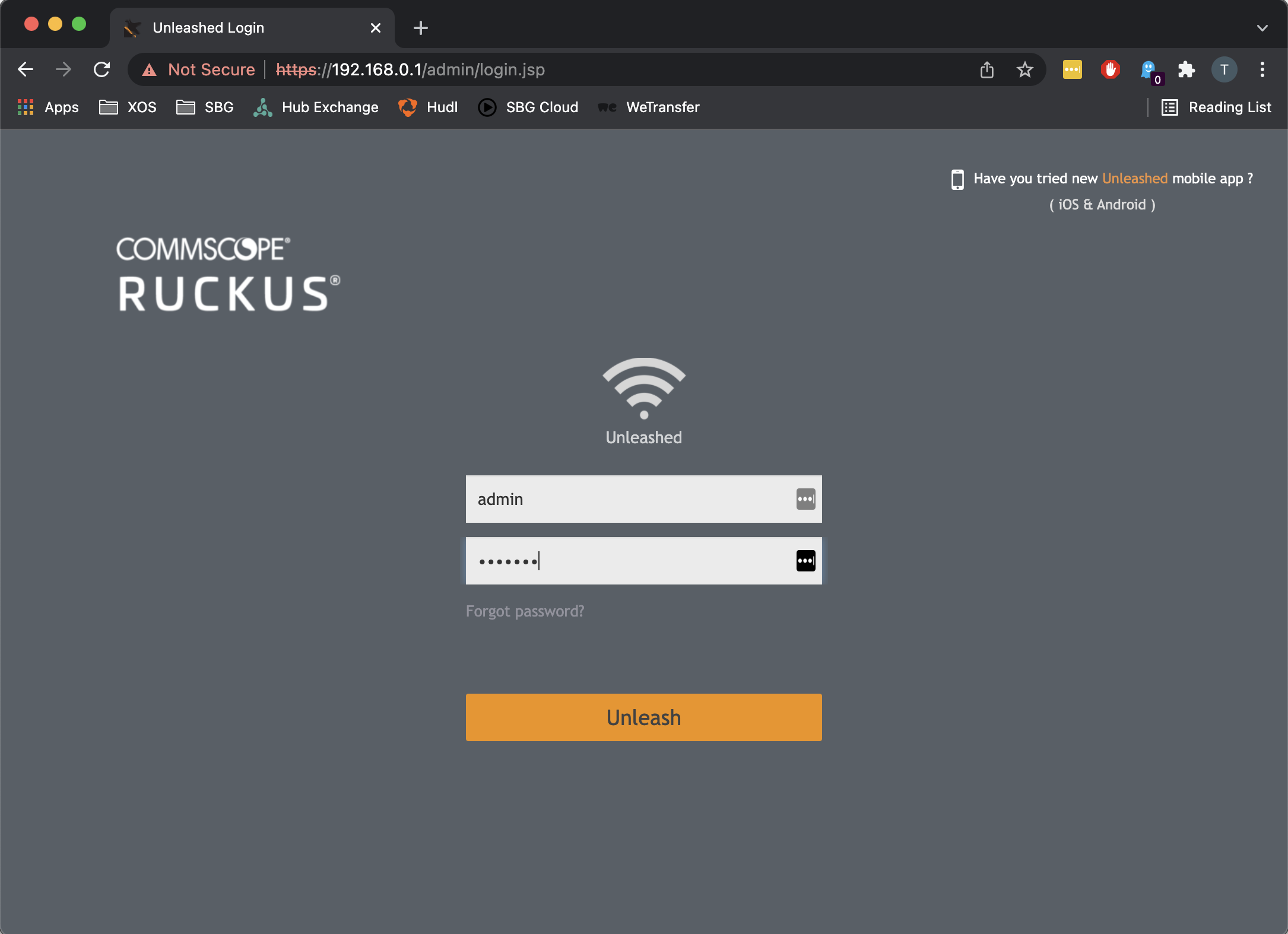 Scroll down to Admin & Services and select System - IP Settings. Click the checkbox for Gateway Mode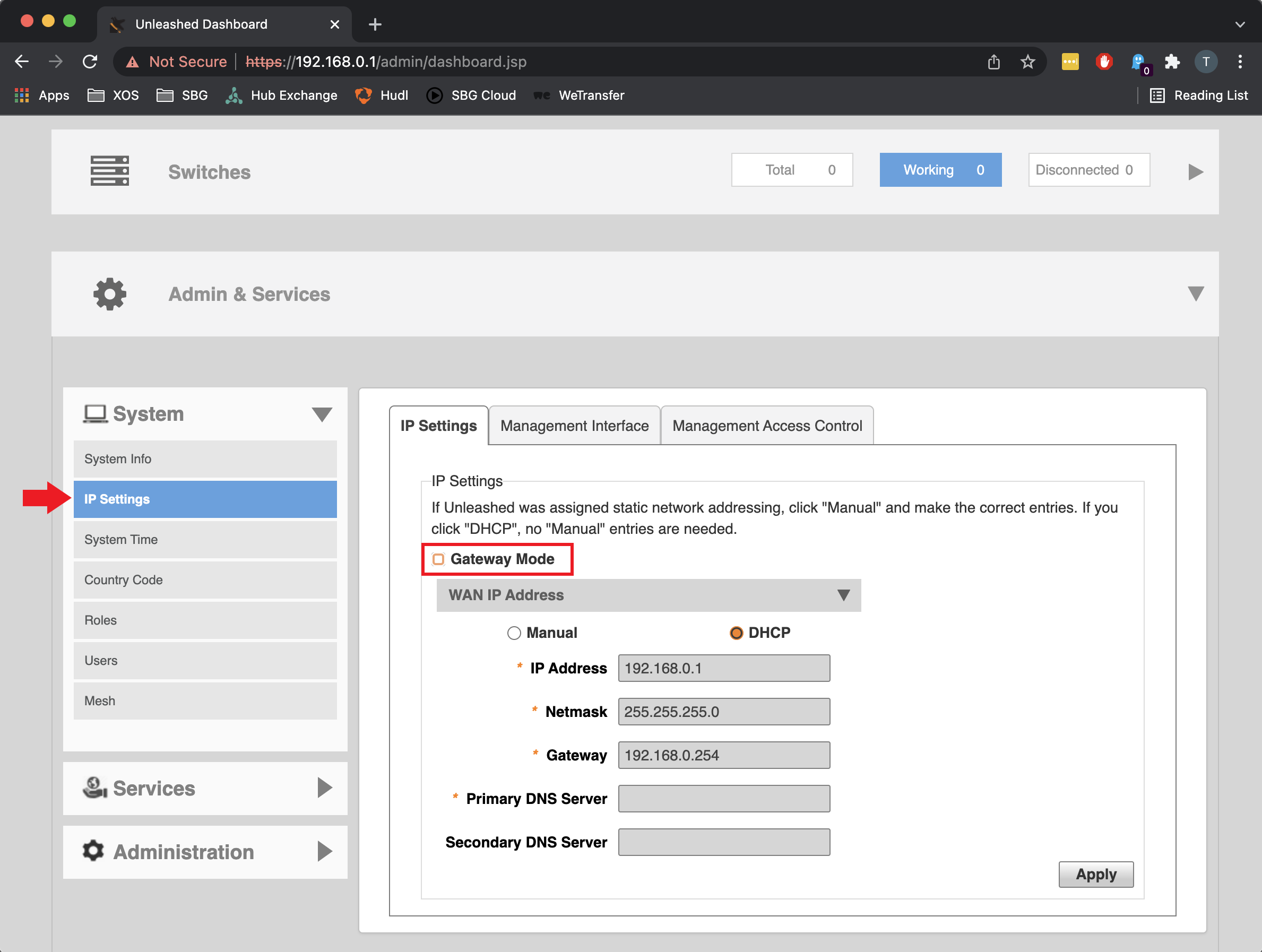 Set WAN Selection to whichever port will be used to log in to the Ruckus for configuration purposes (should default to whichever port you are currently connected to)

The Port that is not selected as WAN Port (Port 2 in example) can be used as a LAN Port

Set the Router IP and Starting/Ending IPs to whatever IP scheme best suits your setup

In my example, I have IP cameras with the IP addresses 192.168.50.50 through 192.168.50.53 so I set my Router IP to be on the same .50.xx subnet and then set my Starting/Ending IP range to be outside of the camera IP addresses to prevent any potential IP conflicts
Once you have your IP addresses defined, click Apply and then click Yes when prompted about enabling Gateway Mode
Will now say Processing… next to the Apply button and the lights on your Ruckus should start going on and off as it configures itself (this process will take a few minutes)

Once it is done configuring Gateway Mode, you should see the 2.4G and 5G lights light up orange.
Close your browser and then navigate back to 192.168.0.1

Login with your Admin Username/Password

You should now see 1 Working WiFi Network and 1 Working Access Point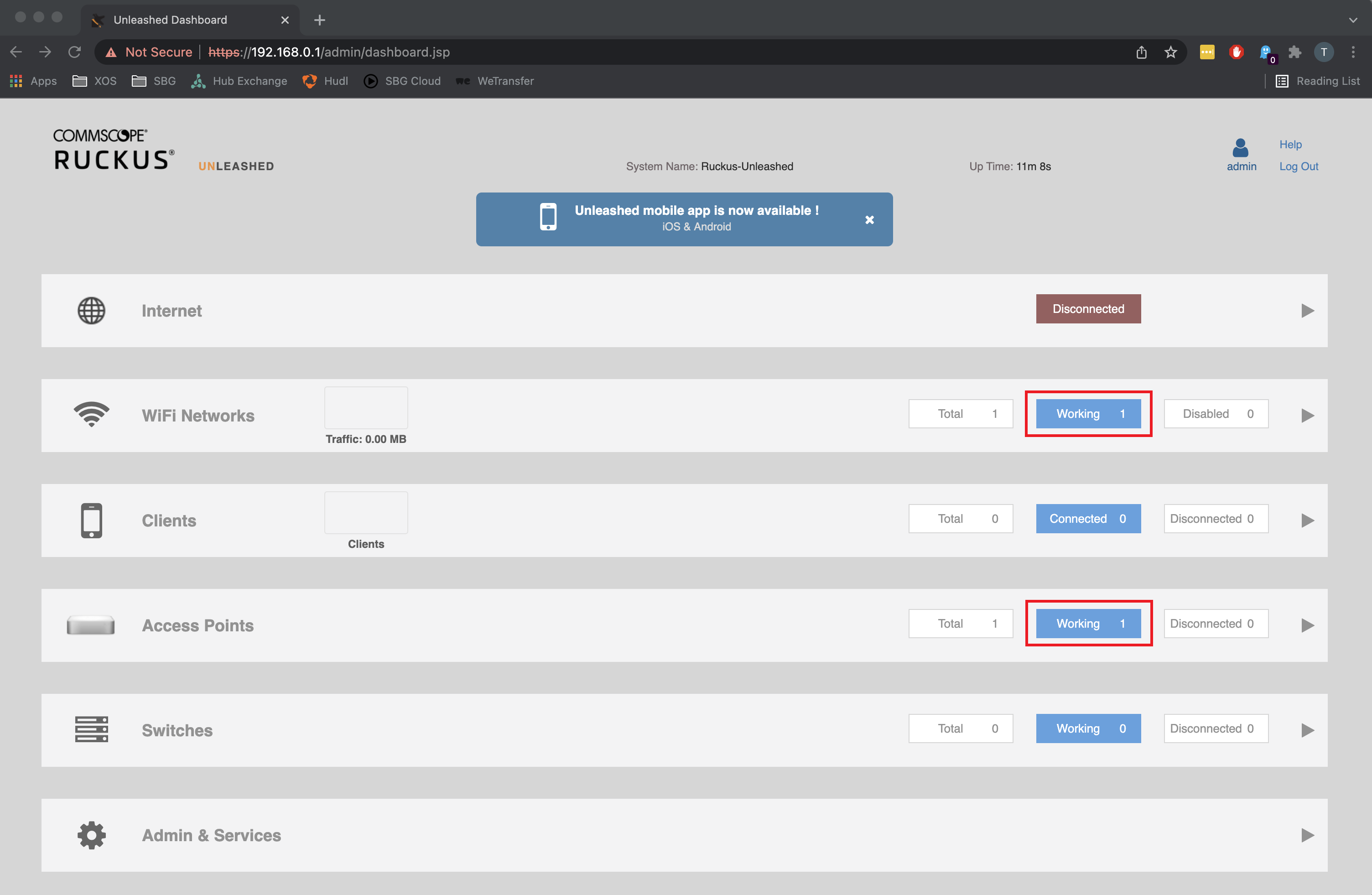 You should also see the WiFi network you created in the list of available WiFi networks

2.4G or 5G lights will light up green depending on which band a client device has connected to
Connect Devices to Ruckus Network
You can now connect your Focus Server and Remote Clients to the Ruckus Network (either wirelessly or wired via the LAN port)

If using the LAN port, you will need to go back into Network Preferences and set the LAN adapter to Using DHCP
You will then receive an IP from the Ruckus within the IP range you defined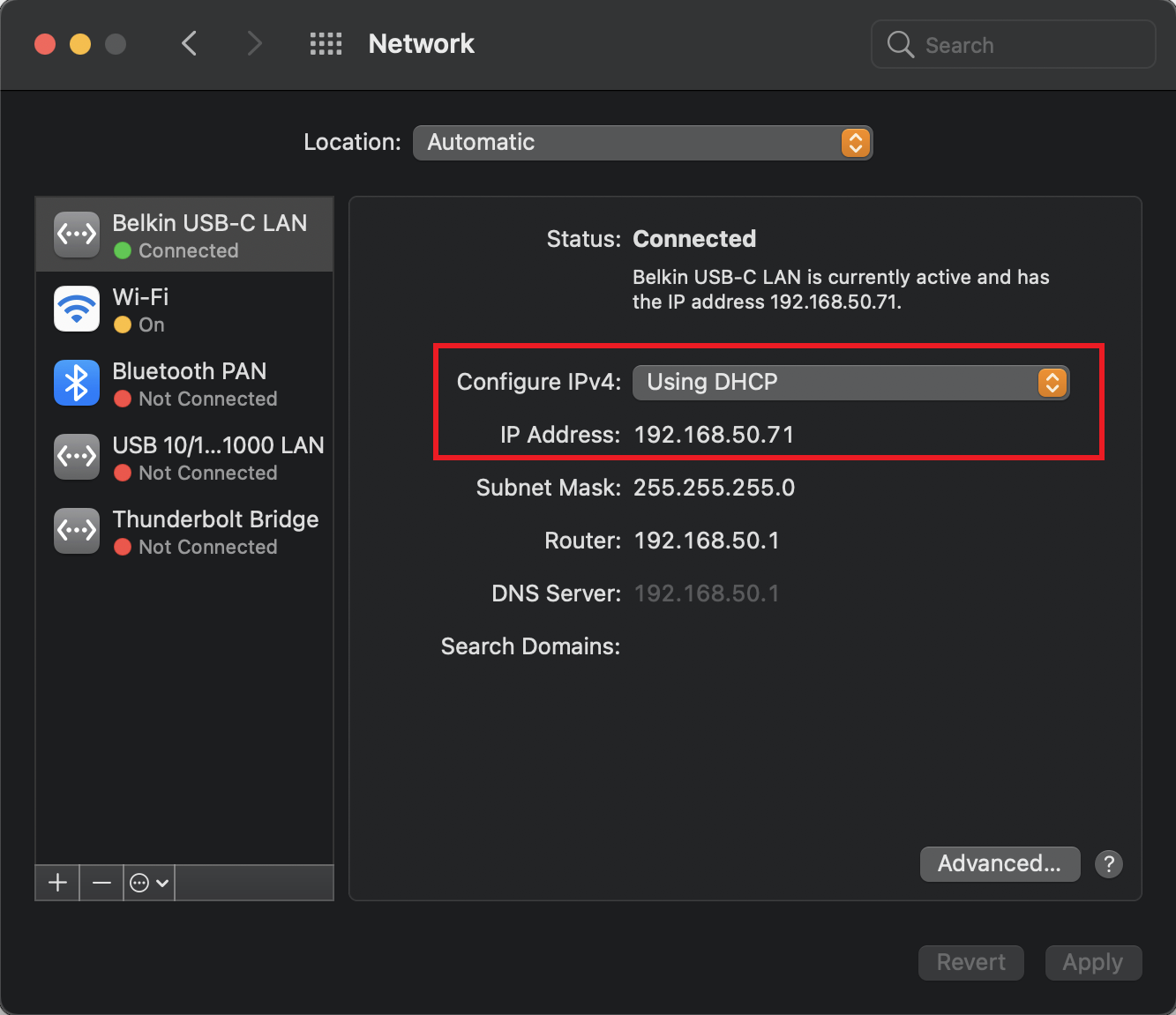 If the Ruckus is being used as a standalone, it will likely not have internet access. If that is the case, connect your laptops and iPads to the internet (prior to connecting to the Ruckus network) and open Focus to refresh the licenses.